The Triangle's only true listening room setting for local, regional and national musicians.
Our lower level features a live music venue, Magnolia Roots, where shows in the Wake Forest Listening Room series are presented. On weekend nights, you'll hear original blues, bluegrass, rock, folk, singer/songwriter, Americana, jazz, world music and more. All in a setting where musicians can actually be heard and appreciated, without having to compete with TVs, conversations or other distractions. Come join us, slow down from the the world and really get into the music.
 
An Evening with Aaron Burdett (Trio show)
June 19 @ 7:00 pm

-

9:00 pm

$12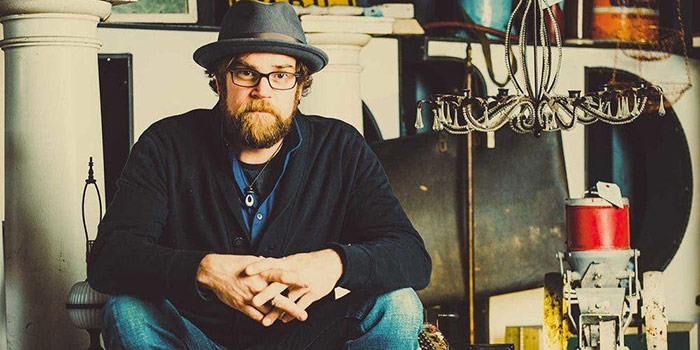 The Wake Forest Listening Room and Sugar Magnolia Cafe are thrilled to bring Aaron Burdett back for a third time!
Aaron was just listed as one of the most important Western NC musicians by WNC Magazine, along with Doc Watson, The Avett Bros, and The Steep Canyon Rangers.
He is the Grand Prize Winner of Our State Magazine's Carolina Songs Award with "Going Home To Carolina" as well as a finalist in multiple songwriting competitions including Merlefest, Mountain Stage, NC Songwriter's Cooperative Songwriting Contest and the Hank Williams Songwriting Contest (from the old Flat Rock Music Festival).
He was also recently chosen to be a 2018 Merlefest Songwriting Contest judge.
WNCW Listener voted top 100 Albums of the Year rankings:
Refuge, 2017 #20
Tinderbox, 2015 #12
Fruits of my Labor 2014 #12
"Among my favorite discoveries of the past few years is this talented, sweet-voiced singer/songwriter of North Carolina who melds country with modern sounds for some outstanding compositions. Mr. Burdett remains the best up-and-coming artist you may not have heard of."
— Eric Althoff, The Washington Times
"Aaron Burdett displays sophisticated song-writing sensibilities and a top-notch, high quality sound that could be played alongside top Americana artists today; he has undoubtedly earned the praise he received in the past and will continue receiving high marks with his latest release 'Refuge.'"
— Bryon William, Indie Spoonful
"Aaron Burdett is an artist that deserves a higher profile. Talented and criminally underrated–his music is the kind of music that cuts through the clutter and right into your soul with passionate storytelling, songcraft, and musicianship. Refuge is clearly one of 2017's best records and joins Tinderbox and Fruits of my Labor in my collection and hopefully they'll land in your collection too."
— Matt Bjorke, Roughstock.com