The Triangle's only true listening room setting for local, regional and national musicians.
Our lower level features a live music venue, Magnolia Roots, where shows in the Wake Forest Listening Room series are presented. On weekend nights, you'll hear original blues, bluegrass, rock, folk, singer/songwriter, Americana, jazz, world music and more. All in a setting where musicians can actually be heard and appreciated, without having to compete with TVs, conversations or other distractions. Come join us, slow down from the the world and really get into the music.
 
An Evening with Malcolm Holcombe
January 16, 2021 @ 7:00 pm

-

9:00 pm

$17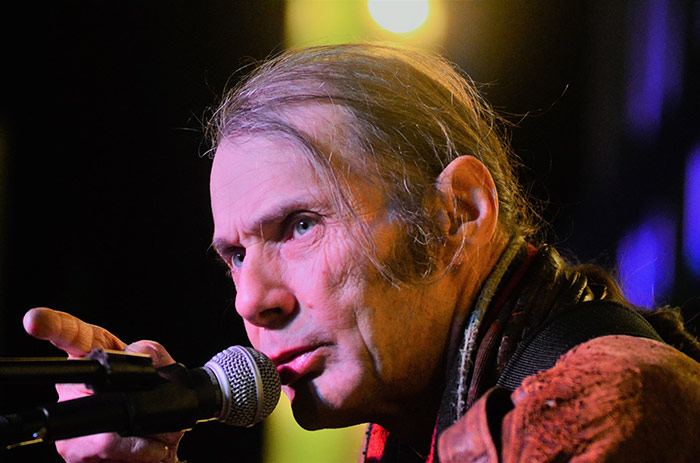 "Malcolm Holcombe is an artist of deep mystery and high art; he is who I listen to, and have for over 20 years," says Darrell Scott, one of Nashville's premier sessions instrumentalists and a nationally respected singer-songwriter. "All the goods that I value in songs and artistry are in Malcolm."
On the cusp of releasing his 13th studio album — "Come Hell or High Water," on Singular Recordings — singer-songwriter Malcolm Holcombe is a both a part of and apart from those Blue Ridge hills, a Southern folk golem brought to life by the deeper mysteries that give these hills so much of their folklore.
His songs belong in the same Western North Carolina echelon of mysteries like the Brown Mountain Lights or the ghostly apparitions along Helen's Bridge or the phantom choir of Roan Mountain — things that surpass conventional explanation but summon forth a combination of awe and primal longing, an ache to understand the great questions of the human condition.
Malcolm may not have the answers to those questions, but his songs are drawn from the same waters that begin as a trickle in the deep woods: wild, untamed, filled with the whispers and roars of all the mysteries and wonders those hills contain. And like the region's otherworldly manifestations, they come from a place that transcends easy understanding, even by their creator.
"I don't know, man; people ask me that stuff, and I can't really tell you where it comes from," Holcombe says. "I'm not really good at pulling a Houdini and getting the pencil to levitate. Getting my pencil to levitate is impossible; it's not in my realm of being. Like my friend Eddie from up here in Swannanoa says, 'If you like to get corn, you got to get out the hoe.'"
For "Come Hell or High Water," he wields that hoe with a deft set of hands, gnarled fingers smelling of tobacco and fresh dirt and the resin from thousands of worn-out guitar strings. It's his third record in as many years, but it's a pointless endeavor to talk to him about his creative process, because Malcolm isn't the sort of songwriter to poke those dark recesses of the mind to figure out where the words that bubble up there come from.
"It's like a friend of mine said years ago — everything's a miracle or nothing's a miracle," he says. "It's just miraculous to be in this situation with some wonderful folks that I've been working with over the years, and to be supported by my wife and friends and fans."
"I think for most songwriters, songs are like clothing. Malcolm's songs are his skin," writes fellow Nashville tunesmith David Olney. "They are a direct expression of who is as a man."
"People like to say Malcolm Holcombe is a national treasure, and they got that right," adds R.B. Morris, an East Tennessee singer-songwriter, playwright and the former poet laureate of the City of Knoxville. "He stands on all the old American music traditions and takes them his own way into a very individual music expression."