The Triangle's only true listening room setting for local, regional and national musicians.
Our lower level features a live music venue, Magnolia Roots, where shows in the Wake Forest Listening Room series are presented. On weekend nights, you'll hear original blues, bluegrass, rock, folk, singer/songwriter, Americana, jazz, world music and more. All in a setting where musicians can actually be heard and appreciated, without having to compete with TVs, conversations or other distractions. Come join us, slow down from the the world and really get into the music.
 
An Evening with The Gingersnaps
April 24 @ 7:00 pm

-

9:00 pm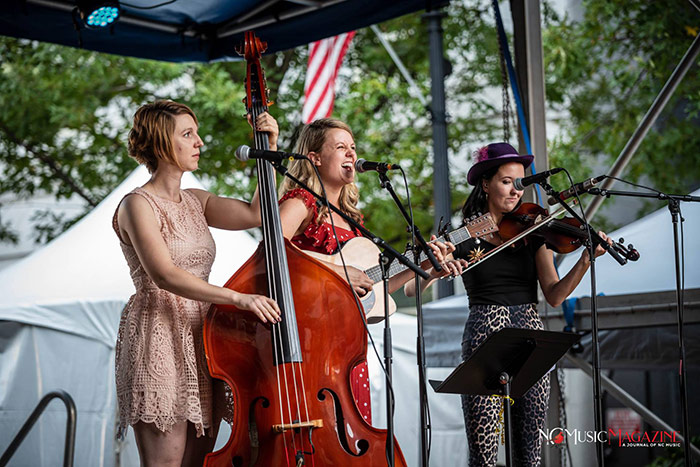 The Gingersnaps is the folk/bluegrass/jazz collaboration of Billie Feather, Anna Rose Beck, and Waverly Leonard. Performing a sweet-and-salty mix of old-time folk and jazz standards, country classics, smooth Americana favorites, and heart-wrenching original songs, The Gingersnaps' vocal harmonies and classic instrumentation including upright bass, fiddle and guitar, are sure to win your heart at first listen.
The Austin, Texas born-and-raised Anna Rose Beck (vocals, guitar) found that music was her true calling shortly after graduating from Duke University with a degree in biomedical engineering in 2010. Inspired by the lyrical sensibilities of Bob Dylan and the vocal stylings of Eva Cassidy, she began performing in local clubs and music venues shortly after graduation, soon garnering a reputation for her evocative lyrics, hushy middle-soprano intensity, and finger-picked guitar lines. Beck carries the weightiness of her songwriting with a voice that has been described as "both bold and understated, moving and hypnotic, brimming with passion but never overpowering," inviting comparisons to Dar Williams and Natalie Merchant. She collaborated with Asheville-based producer Andrew Schatzberg to record and release two albums of original songwriting, The Weathermaker (2011) and Glass House (2014). Beck is currently pursuing a Master's of Music in Jazz Composition at North Carolina Central University where she studies vocal performance.
Billie Feather (upright bass, vocals) was raised in North Carolina, where she found herself surrounded by the rich musical landscape that flourishes in the Tarheel State – from the old traditional mountain music of the Appalachians to the Piedmont's rich blues and jazz traditions. For her senior year in high school, she was accepted into the prestigious music conservatory at The University of North Carolina School of the Arts in Classical Guitar Performance, and remained there for her college studies. Feather has been a guest classical guitarist in The Carolina Wind Symphony, and has performed all over North Carolina as both a solo artist and in classical guitar ensembles. After graduating in 2006, she expanded her musical studies by learning the double bass, electric bass, banjo, and mandolin. Feather has played professionally with several well-known bands in North Carolina. Most notably, she could be found with Bo-Stevens and The Darnell Woodies, with which she toured throughout the US and Europe. She has shared the stage with country legend George Jones, the Steep Canyon Rangers, Dexter Romweber, The Backsliders, and many other noteworthy acts. Feather graduated from North Carolina Central University in 2017 with a second bachelor's degree in Jazz Guitar. She is currently pursuing her Master's of Music in Guitar Performance at North Carolina School of the Arts.
Waverly Leonard is a fiddle player from Wilmington, North Carolina. She is currently a senior at the University of North Carolina at Chapel Hill pursuing a B.S. in Biology and a B.A. in Music Performance. Waverly has played classical violin her whole life, and started playing bluegrass her sophomore year of college with the UNC Bluegrass Band, led by Russell Johnson of the Grass Cats, New Vintage, and Diamond Creek. She quickly fell in love with the genre and is currently studying bluegrass fiddle with Tatiana Hargreaves. Waverly has performed with Mason Via and Hot Trail Mix, the Gravy Boys, Hank, Pattie, and the Current, and hosts a summer bluegrass jam at Tobacco Road, a sports bar in Chapel Hill.