The Triangle's only true listening room setting for local, regional and national musicians.
Our lower level features a live music venue, Magnolia Roots, where shows in the Wake Forest Listening Room series are presented. On weekend nights, you'll hear original blues, bluegrass, rock, folk, singer/songwriter, Americana, jazz, world music and more. All in a setting where musicians can actually be heard and appreciated, without having to compete with TVs, conversations or other distractions. Come join us, slow down from the the world and really get into the music.
 
Sunday Sessions: Marti Jones & Don Dixon with Sus Long
August 30 @ 2:00 pm

-

4:30 pm

$18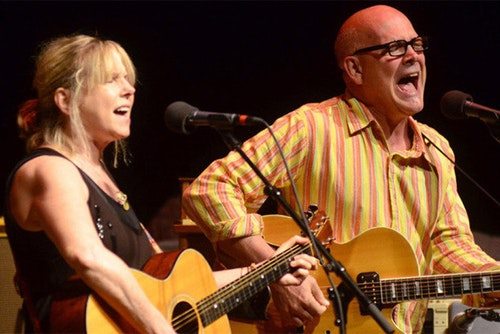 $18 advance on sale now. $20 door.
Marti Jones & Don Dixon have been performing together, off and on, for over twenty years. This longtime partnership has resulted in an intimate stage rapport as well as the seamless blending of two of the most distinct voices around today. With over two hundred songs in their collective recorded catalogue, you never know quite what to expect when they hit the stage, but rest assured their performance will feature thoughtful lyrics and heart-felt singing.
MARTI JONES
Marti Jones is a singer and painter originally from Uniontown, Ohio. Jones was initially a member of the band Color Me Gone, who recorded one EP for A&M Records in 1983. Her first solo album, 1985's "Unsophisticated Time" (A&M), was produced by Don Dixon. Jones and Dixon subsequently married, and Dixon continued to produce all of his wife's subsequent albums. Two more albums for A&M followed in the 1980s, each of them featuring a wide range of supporting musicians (including Marshall Crenshaw, Mitch Easter, The Uptown Horns, Paul Carrack, T-Bone Burnett, Darlene Love and many others). Jones' sound encompassed jangle pop, ballads, and even southern-style soul material. Her voice and singing style reminded some observers of Dusty Springfield, who mined a similarly eclectic field of pop music; others compared her voice to that of Linda Ronstadt, Bonnie Raitt, or Annie Lennox.
Jones' albums featured both original material (mostly written by Dixon, or Dixon and Jones together), and covers of songs by singer/songwriters such as Janis Ian, Elvis Costello, John Hiatt, Jackie DeShannon, Richard Barone, and Graham Parker. For a move to the RCA label in 1990, Jones relied more heavily on original material and adapted a somewhat more adult-contemporary sound.
At the age of 35, Jones decided to settle down and have a child. It wasn't until her daughter, Shane Marie Dixon, was 4 years old before she made another album, my "My Long-Haired Life". Having cut her characteristically long hair when she became a mother, the album alludes to her life of singing back when her hair was long. The album's cover shows a self-made painting of Jones sitting in a barber's chair, her golden locks strewn upon the floor. On subsequent recordings, she returned to her customary mix of originals and covers.
In the past few years, Jones has curtailed her singing career and has focused on painting (under the name Marti Jones Dixon). She did, however, tour with singer/songwriter Amy Rigby as "The Cynical Girls" in 2005. Then in 2008, she and her husband released Lucky Stars: New Lullabies for Old Souls a download-only album credited to Marti Jones & Don Dixon. Billed as an album of "calm, soothing music" (and as a departure from both Jones' and Dixon's previous sound), it featured six vocal songs and five instrumentals. In fall of 2009, Jones toured with her husband to perform a series of live acoustic performances.
DON DIXON
Don Dixon has devoted his entire life to the popular song. Whether working as a singer, songwriter, musician or producer, he has always tried to capture the essence of his life in the moment.
He began playing and recording in his mid-teens, co-founding ARROGANCE, a band that helped forge the North Carolina scene which brought the world Let's Active and The dBs, along with dozens of other bands that followed in their wake. Dixon went solo in 1983 and has released nine CDs. In March '08 Don released his latest album, "The Nu-Look" which features his long-time touring band, Jamie Hoover and Jim Brock. After twenty years on the road together, Jamie named the group "Don Dixon & the Jump Rabbits".
Dixon's writing, production and session credits include REM, Hootie & The Blowfish, Counting Crows, The Smithereens, Joe Cocker, Mary Chapin Carpenter, Marti Jones, Marshall Crenshaw, James McMurtry, Ronnie Spector, Matthew Sweet, astroPuppees, Baby Shaker, Richard Barone, Jim Brock, Mark Bryan, Kim Carnes, Caitlin Cary, The Connells, Pat DiNizio, The Edison Project, Fetchin Bones, GB Leighton, The Golden Palominos, Guadalcanal Diary, In Tua Nua, Tommy Keene, Let's Active, Moxy Fruvous, The Red Clay Ramblers, Snagglepuss, The Spongetones, Chris Stamey,, The X-Teens and dozens more.