The Triangle's only true listening room setting for local, regional and national musicians.
Our lower level features a live music venue, Magnolia Roots, where shows in the Wake Forest Listening Room series are presented. On weekend nights, you'll hear original blues, bluegrass, rock, folk, singer/songwriter, Americana, jazz, world music and more. All in a setting where musicians can actually be heard and appreciated, without having to compete with TVs, conversations or other distractions. Come join us, slow down from the the world and really get into the music.
 
Sunday Sessions with Leah Kaufman, Penne Sandbeck, Isabel Taylor, and Karyn Oliver
December 8, 2019 @ 1:00 pm

-

5:00 pm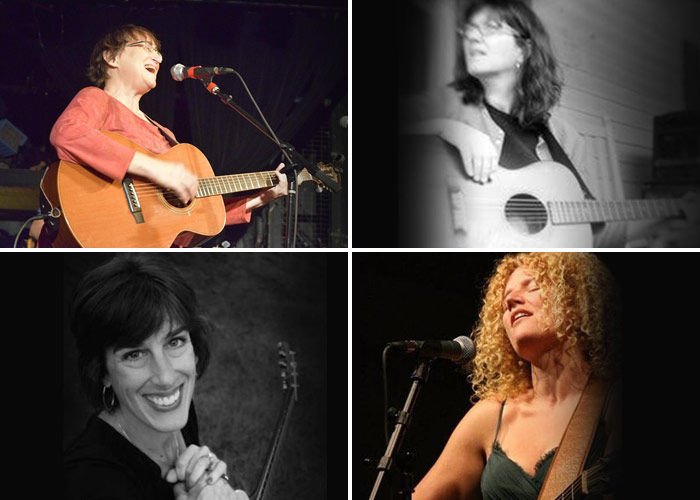 Four gifted singer-songwriters, each with a unique style and perspective. They are also tied together by their love for songwriting and performing and their 2018/2019 recordings projects produced by 2019 International Blues Challenge winner Jon Shain and recorded at Chapel Hill's Good Luck Studio with engineer FJ Ventre.
Penne Sandbeck
Penne Sandbeck's musical territory is delineated by the heartbeat-like thumb of her Piedmont fingerstyle playing and her clear, innocent-but-weary vocal style. An architectural historian and North Carolina native, Penne brings to her songwriting years of traveling country roads studying small towns, meeting houses, churches, schools, and farmsteads – all the while with Mississippi John Hurt and Etta Baker sharing time in the car stereo alongside folk-rock heroes like Joni Mitchell and Lucinda Williams. Combining her musical influences with her experiences, Penne sings about the South, about pasts and presents, about dreams, and about things that are true… or might be true… or could be true… or should be true. She recently completed her second solo CD, produced by Jon Shain.
Leah Kaufman | leahk.com
"…singing and playing that can stop people who make faces at folk music from being so rude." – Chris Spector, Midwest Record
In the 1990's, Seattle singer-songwriter Leah Kaufman released three recordings with popular acoustic quintet The Wailing Strangers and her own solo debut CD, 'Five Fingers'. Performing in festivals and venues throughout the Northwest, her songs garnered song­writing awards and accolades from the South Florida Songwriting Competition, lntermountain Acoustic Music Association, Mid-Atlantic Songwriting Competition and the Austin Songwriting Competition.
In 2015 she relocated to Raleigh, North Carolina, and in 2017 re-emerged with "On to Something Fine" — eloquent acoustic music that dances between genres with an ear-catching voice that pulls you in to each song's unique story. Her new album, "Midnight Refrain," builds on these strengths: songs with melodies that stick like glue and lyrics that tell stories you love hearing. An accomplished finger-style guitar player as well as fine flat-picker, each song holds true to a common core of exquisite lyrics, fine guitar work and a clear strong voice. Both albums were produced by 2019 International Blues Challenge winner, Jon Shain, and recorded by consummate musician/recording engineer, FJ Ventre. She's continued her success in songwriting competitions: 2018 Finalist in the South Florida Folk Festival competition; 2018 Audience Choice and 1st Place awards in Rapunzel's Books & Coffee competition.
Isabel Taylor | isabeltaylorsings.com
Based in Pittsboro NC, Isabel Taylor started singing at local open mics in 2010, accompanying herself on guitar. It wasn't long before she was playing her own shows and writing songs.
She performs regularly at local venues, festivals, and private events in the Triangle (NC) and on the coast. A native of Buffalo, NY, singing has been a passion of hers since childhood, and songwriting has become a way of personally expressing her views on life and love.
"Though I began by covering songs by artists that I felt were 'hidden gems,' I find that writing songs is even more fulfilling. There is nothing like singing an original song and experiencing the audience's connection to it."
Taylor's sophomore album, Isabel Taylor, produced by award-winning songwriter and guitarist Jon Shain, was released in May 2019. Her debut album, Awake Again, also produced by Shain, was released in June 2016. It reached number 15 on the Folk DJ chart in January 2017.
Karyn Oliver | karynoliver.com
Karyn Oliver is part Joan Osborne, a touch of Janis Joplin and a bit of Emmylou Harris – effortlessly oscillating from bluesy to country and back. Her musical inspirations come primarily from the eclectic mix of music to which she was exposed while growing up in the musically diverse culture of Washington, D.C.
In 2009, Karyn moved to a town called Boring, MD with a broken heart and a cheap guitar. It was from this place that she created her first solo album, Red Dress, that earned her Kerrville New Folk Finalist and Falcon Ridge Emerging Artist in 2011, as well as 2010 Mid-Atlantic Song Contest winner. In 2011, Oliver moved to New York City, with a renewed heart and a better guitar. It is from this place that she created her latest solo album, Magdalene, and became a Kerrville New Folk Finalist for a second time in 2016.
2017 brought Oliver to North Carolina, where she is steeping herself in the great writers of the South, and recorded a new album, "A List Of Names."
"A List Of Names" is currently charting on both Folk (#8 in February!) and Americana radio.
"The fire of a Folk musician is at the heart of the stories on 'A List of Names.' (The CD) shifts sounds, blending diverse styles guided by the vocal drive of Karyn Oliver."
– The Alternate Root