The Triangle's only true listening room setting for local, regional and national musicians.
Our lower level features a live music venue, Magnolia Roots, where shows in the Wake Forest Listening Room series are presented. On weekend nights, you'll hear original blues, bluegrass, rock, folk, singer/songwriter, Americana, jazz, world music and more. All in a setting where musicians can actually be heard and appreciated, without having to compete with TVs, conversations or other distractions. Come join us, slow down from the the world and really get into the music.
 
Valentine's Night with Jess Klein & Mike June
February 14 @ 7:00 pm

-

9:00 pm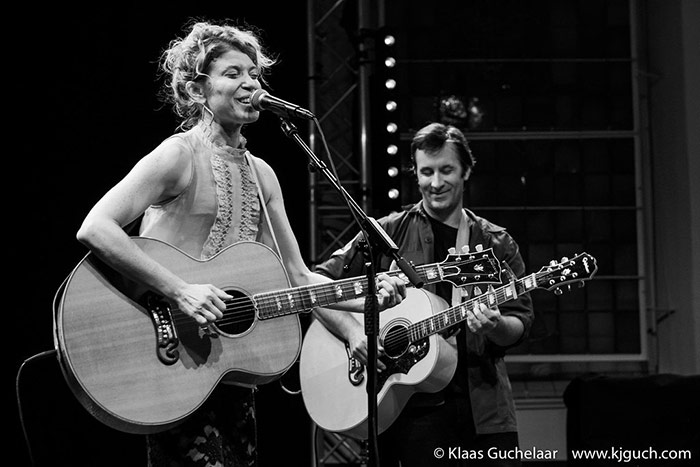 Bring your honey out to Magnolia Roots Music Lounge on Valentine's evening for a date with Jess Klein and Mike June. Anyone who saw them open for the Shoaldiggers knows what powerful singer/songwriters they are. This is a "don't miss" event.
About Jess Klein:
Over a career that spans more than a decade and a half and has won her a devoted worldwide fan base, Jess Klein—who possesses what Mojo magazine calls "one of those voices you want to crawl up close to the speakers to listen to" has pursued a remarkable creative evolution that's seen her dig ever deeper for resonant emotional insights, while continuing to refine her eloquently melodic, effortlessly accessible songcraft. Jon Pareles of The New York Times calls her "a songwriter with a voice of unblinking tenacity…who finds parables in the everyday and also finds humanity behind the archetypal."
The Rochester, NY native began writing songs as a college student in Kingston, Jamaica, and is known for staking out brave lyrical and musical territory with such albums as Wishes Well Disguised (1998), Draw Them Near (2000), Strawberry Lover (2005), City Garden (2006), Bound to Love (2009), Behind A Veil (2012) and Learning Faith (2014) which Folk Radio UK calls "Unquestionably the finest album of her impressive career." Jess spent eight years soaking up the live music culture of Austin, TX. Bootleg (2015) Jess's live, full band album captures the dynamism of Jess onstage, backed by some of Austin's top players. Jess was named a 2015 Finalist in the highly regarded Kerrville New Folk Competition.
Following a move from Austin to the tiny but vibrant town of Hillsborough, North Carolina, Jess joined forces with Producer Mark Simonsen (The Old Ceremony, Weems/Gerrard Band, film scores: Elephant Sighs, Radiation Veterans and Rareified) and Engineer Thom Canova (Amy Ray, 4 Non-Blondes, Oranj Symphonette) at Studio M in Durham, North Carolina to record a new album entitled "Back to My Green".
On this striking collection of ten new originals, Klein's incisive lyrics address living in uncertain times and the resilience that carries us through. Songs like "New Thanksgiving Feast", "Tougher than I Seem", and "Kid" look through the lens of a world-traveler and granddaughter of Russian Jewish immigrants, to celebrate the human capacity for healing and redemption during dark times. Guest vocalists include Gaelynn Lea and Jonathan Byrd. Simonsen and Canova's deft production calls on influences including Motown, Classic Rock, Tropicalia and 70's folk and creates a stirring backdrop to Klein's passionate mezzo soprano on this timely and powerful album. Back to My Green will be released everywhere in early 2019.
About Mike June:
Mike June makes decidedly timely music, but he does far more than document an era of unease. He has mastered the precarious balance between despair and hope and rendered it melodic across five albums, including Poor Man's Bible, released on Slothtrop Records in 2016.
"It's discovering artists like Mike June that makes this all worthwhile; he can certainly write a song; and the theme throughout of the 'working man of all colours and persuasions is being trampled on' but his execution of those songs is second to none," writes the Rocking Magpie music blog of Poor Man's Bible. They add that June "certainly has his finger on the button in a way Bruce hasn't had for 20 years or more."
One year and one brutal election later, June is pushing that button hard. The results are clear in the three-songs that comprise June's new single, Alright, out July 14 on Slothtrop. The single features the Raleigh, NC band The Backsliders and also guest stars June's wife, Jess Klein, on backing vocals.
Born in rural New York and raised in New Jersey, June did a stint in Austin (where he made 3 records, including Exile on Wilson Street) before moving to North Carolina. Music has always been a big part of June's life. "I started pretending to play music at around age 3, miming Kiss songs with the neighbors, and strumming on my Grandfather's guitar while he sang Hank Williams' songs. I got into my first bands in high school, and formed my first professional band, Wide Load Joad, in 1999 before going solo and forming Mike June & The Dirty Doves in 2001," June remembers.
Over the years, June's focus on the very real stories of very real people has remained intact. "His music is what my generation needs, and what older generations need to remember. He sings love songs about the human experience – sometimes his own," writes The Austin Chronicle, "I consider him a storyteller of the revolution."