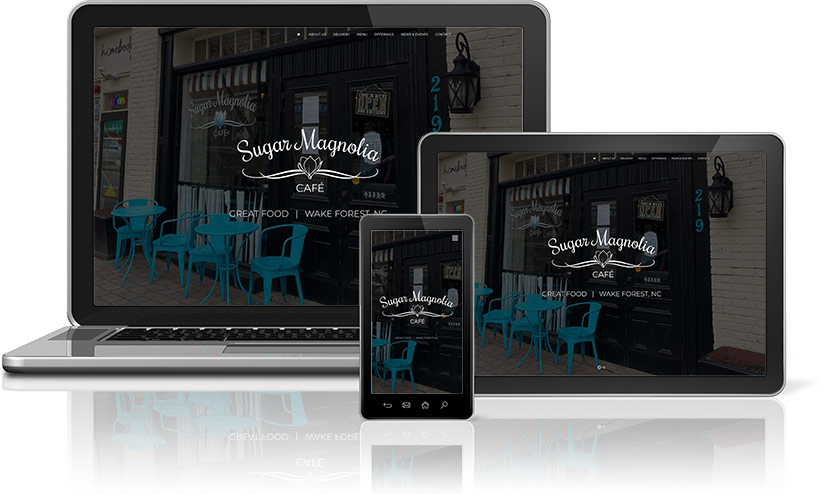 Welcome To Our New Website!
We are so excited about the changes we are making at Sugar Magnolia Café! We loved the charm of Sugar Magnolia but we needed to make it our own so we started with our fresh new logo. We feel it fits our vision to a TEA (haha)! Our new sign will be going up outside the Café very soon! We are also so proud to announce the release of our brand new website. Things just keep getting better and better!
We are slowly adding new menu items at the Café. We have improved the quality of food and can't wait for you to have a taste. Another tremendous accomplishment is that we have partnered with a local Wake Forest bakery, Sweet & Savory Dessert Café. We can now provide delicious freshly baked treats to the community. From Pie on a stick (yes I said Pie on a Stick), to every flavor of the rainbow macarons, muffins, mini breads and cookies. All made either standard, gluten free or dairy free and without losing the taste!
Next on the list, we are revamping our Tea Parties. We plan to get back to traditional high tea with a twist, with 3 different levels for those who want to enjoy an experience, those that want a lunch and a treat, and those who want something for their little ones.
More changes include our gift shop. We have introduced some new vendors to the Café and hope to have some pop up markets in the Café in the near future.
Last but not least we will continue to provide Original Music in a unique Listening Room atmosphere at Magnolia Roots (our lower level), from local favorites to critically acclaimed musicians. Enjoy a glass of wine, beer or a warm cup of tea and sit back and enjoy the intimate setting. Most people do not know we have a music venue in our lower level that can seat up to 90 people! Musicians love to play in this storyteller setting and the audience loves it even more as you are part of the story. Please stop by and we can show you what we are talking about. Our Music schedule is on our new website.